Groundbreaking Held for Juvenile Justice Center in KCK
The Unified Government of Wyandotte County/ Kansas City, Kansas held a ceremonial groundbreaking today to commemorate the start of construction on the Wyandotte County Juvenile Justice Center, which will be located in the current parking lot behind the Court Services Building on North Seventh Street in Kansas City, Kansas.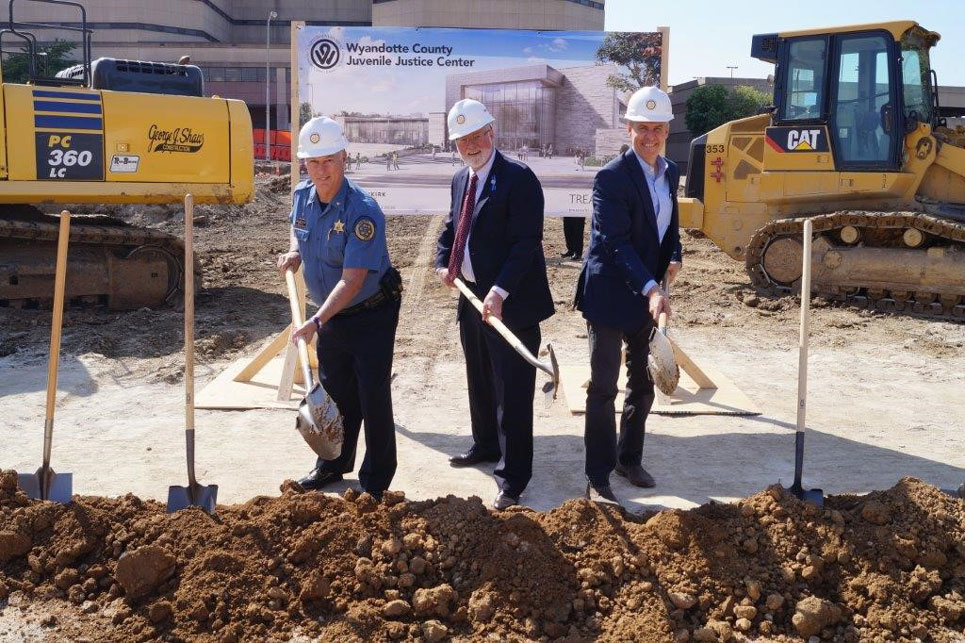 Mayor/CEO of the Unified Government of Wyandotte County/ Kansas City, Kansas David Alvey opened the ceremony by welcoming guests and offered remarks thanking the community for their support and highlighting how the new $27.2 million facility will give young people of Wyandotte County a chance to learn from their mistakes.
"The name of our new facility demonstrates our commitment and support for our young people in this community. We are about justice, which holds people accountable but will also provide opportunities for young offenders to get their lives back on track and become positive members of Wyandotte County. This facility will create an environment that will give a much better chance for young people to learn from their mistakes, alter their behavior, and return to their families and community as responsible and productive citizens," Alvey said.
Unified Government officials have been working for nearly a decade to find a better solution for dealing with juvenile offenders and teamed up with architecture firm TreanorHL to help design their vision. Newkirk Novak Constriction Partners was then selected as the Construction Manager at Risk on the new construction project to help bring their plan to life.
"We feel privileged to have the opportunity to work with the Unified Government of Wyandotte County and are extremely proud to be a part of this project that is going to help support the continued growth of the Kansas City, Kansas community." said Lynn Newkirk, President of Newkirk Novak Construction Partners.
Currently juvenile and adult offenders are housed in separate areas of the same building, which creates operational challenges and increased costs. Once complete, the 47,000 square-foot Juvenile Justice Center will be utilized solely for juvenile detention, administration and programming.
Work being completed at the three-story facility includes classrooms, a courtyard, detention housing, support spaces, a gymnasium, medical suite, visitation rooms, juvenile intake and assessment space, family courtrooms, and court services offices.
The groundbreaking ceremony came to a close with Wyandotte County Sheriff, Don Ash, who detailed the monumental effort made by city officials to remedy an outdated arrangement and reminded everyone what this project is really about, creating a better tomorrow for today's youth.
"I think we have to do better by our young people. We want them to grow up to be productive, contributing members in our society and this facility will certainly give us an opportunity to do a much better job at that than we're currently able to do because of the various restrictions in this outdated facility," said Sheriff Ash.
Expected completion for the project is the first quarter of 2020.