Tommy's Express Breaks Ground on New Car Wash in Lawrence
Newkirk Novak Construction Partners proudly announces the groundbreaking of the new Tommy's Express Car Wash, located in Lawrence, Kansas at the intersection of Sixth Street and Monterey. Franchise owner/operator Austin Davis became involved with Tommy's Express a little over two years ago and decided to open up his own location after working for many years in the industry.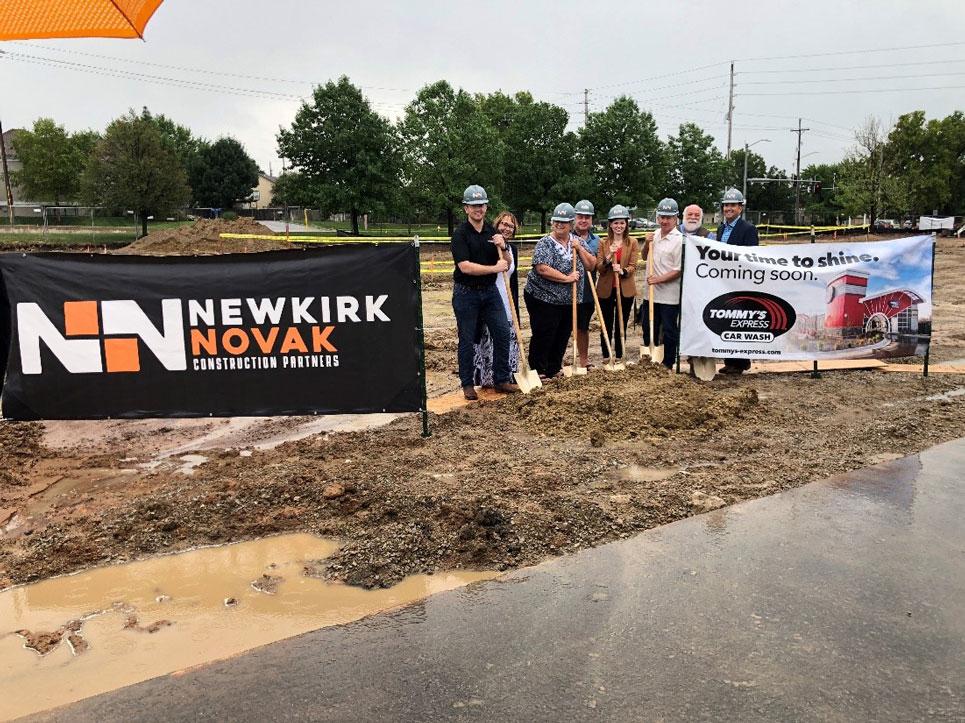 "I am originally from Dodge City, Kansas, and I chose to start my first business in Lawrence because its big city amenities with small town charm reminded me of home," says Davis. "Lawrence is a prime area for everything I am looking for, and I love being a part of this community."
Serving as the general contractor, Newkirk Novak has commenced construction on the project by removing the existing structure and excavating the site to prepare for the new 110' long car wash tunnel. The high tech, 20,000 square-foot facility features over fifty cameras that help to ensure a perfect car wash experience every time for customers.
As a part of the scope, Newkirk Novak will be installing radiant floor heating, and all exterior surfaces. The facility will also feature eleven self-serve vacuum stations, full-length bay windows, a curved transparent roof for natural lighting, large round stainless steel arches, and a dual belt conveyor system for faster and easier loading into the car wash bay. Newkirk Novak will also be installing specialized high pressure and reclaim equipment, which will help Tommy's Express to use about 25-30 gallons of water per wash - less than half the amount as most car washes.
Tommy's Express is expected to be open to the public by the first quarter of 2019.